A talk given by Julie Carr to her congregation, the Cordata Park Ward in Fountain Valley, on Easter Sunday 2019.
"In the end of the Sabbath, as it began to dawn toward the first day of the week, came Mary Magdalene and the other Mary to see the sepulchre.
And, behold, there was a great earthquake: for the angel of the Lord descended from heaven, and came and rolled back the stone from the door, and sat upon it.
And the angel answered and said unto the women, Fear not ye: for I know that ye seek Jesus, which was crucified.
He is not here: for he is risen." (Matthew 28:1, 2, 5, 6)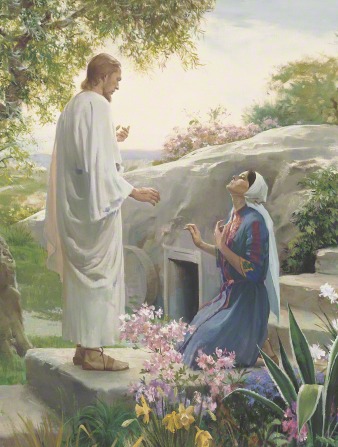 Joseph Smith explained that "The fundamental principles of our religion are the testimony of the Apostles and Prophets, concerning Jesus Christ, that He died, was buried, and rose again the third day, and ascended into heaven; and all other things which pertain to our religion are only appendages to it."
Renowned author Charles Dickens wrote the classic volume entitled Great Expectations. Dickens' main character is Pip. Pip was an orphan. More than anything he wanted to be a gentleman. It seems that all of his hopes and desires and dreams were doomed to failure.
Then one day a London lawyer named Jaggers approached Pip and told him that a secret benefactor had bequeathed to him a fortune. The lawyer looks at Pip and regarding his benefactor, says, "And the communication I have got to make is, that he has great expectations."
We are the beneficiaries of a certain fortune, the knowledge of what Gordon B. Hinckley called the most important event in human history.
So important was this event that there were thousands of witnesses… The women at the tomb, Mary Magdalene in the garden, the ten apostles, Thomas, the two apostles on the road to Emmaus, about 500 brethren at once, to Paul on the road to Damascus, to about 2500 Nephite men, women and children, to Joseph. Smith, Oliver Cowdery, Sidney Rigdon, Lorenzo Snow, and I have no doubt he has appeared to his apostles and prophets since then.
As the beneficiaries of this knowledge, what great expectations are held for us?
Following the renovation of the Mesa Arizona Temple some years ago, clergy of other religions were invited to tour it on the first day of the open house period. Hundreds responded. At the end of the tour, Gordon B. Hinckley said he would be pleased to answer any questions. Among these was one from a Protestant minister who said, "I've been all through this building, this temple which carries on its face the name of Jesus Christ, but nowhere have I seen any representation of the cross, the symbol of Christianity. I have noted your buildings elsewhere and likewise find an absence of the cross. Why is this when you say you believe in Jesus Christ?"
President Hinckley responded: "I do not wish to give offense to any of my Christian colleagues who use the cross on the steeples of their cathedrals and at the altars of their chapels, who wear it on their vestments, and imprint it on their books and other literature. But for us, the cross is the symbol of the dying Christ, while our message is a declaration of the Living Christ."
The minister then asked: "If you do not use the cross, what is the symbol of your religion?"
President Hinckley replied, "The lives of our people must become the most meaningful expression of our faith and, in fact, therefore, the symbol of our worship."
As of the knowledge of the resurrected Christ, the great expectation for us is that our lives must be different, they must be an expression of our faith in that resurrection.
The Apostle Paul taught, "If there be no resurrection of the dead, then … is our preaching vain, and your faith is also vain" (1 Cor. 15:13–14).
Our knowledge of the Resurrection must incite us to action…it is the great expectation our benefactor has for us. The action we must take is found in a simple primary song.
How could the father tell the world of sacrifice, of death?
He sent his son to die for us and rise with living breath.
What does the father ask of us, what do the scriptures say?
Have faith, have hope, live like his son, help others on their way.
Have faith, have hope, live like his Son.
(He Sent His Son, Children's Songbook)
There is no greater hope than the hope found in our knowledge of the resurrection. Peter referred to the fact that God the Father, in His abundant mercy, "hath begotten us again unto a lively hope by the resurrection of Jesus Christ from the dead" (1 Pet. 1:3; see also 1 Thes. 4:13–18).
Our knowledge of the resurrection gives us a lively hope. And that hope should steer our thoughts and actions. In April 2000, Dallin H. Oaks, in his talk entitled Resurrection lists this lively hope our knowledge of the resurrection can bring.
That lively hope persuades us that keeping the commandments today does matter
In 2 Nephi 9:16 Jacob explains, "And assuredly, as the Lord liveth, for the Lord God hath spoken it, and it is his eternal word, which cannot pass away, that they who are righteous shall be righteous still, and they who are filthy shall be filthy still."
"Enoch said, 'Keep the commandments,' and those who did were translated and taken up to heaven. Noah said, 'Keep the commandments,' and those who did not were drowned, and their spirits were sent to the eternal prison house. The prophet Jonah said to the people of Nineveh, 'Keep the commandments,' and when they obeyed, their city was saved."
(Elder Sterling W. Sill, Keep the Commandments, January 1973)
That lively hope confirms that our mortal trials are temporary
We can find strength and perspective in enduring the physical, mental and emotional problems we are dealing with here.
Paul V. Johnson is a General Authority Seventy. His daughter Alisa battled cancer for 8 years before her early death. He explains, "Alisa researched survival rates for persons with the type of cancer she had, and the numbers were not encouraging. She wrote: 'But there is a cure, so I'm not scared. Jesus has already cured my cancer, and yours. … I will be better. I'm glad I know this.'"
We can replace the word cancer with any of the other physical, mental, or emotional ailments we may face. Because of the Resurrection, they have already been cured too. The miracle of resurrection, the ultimate cure, is beyond the power of modern medicine. But it is not beyond the power of God.
A little over a month before she passed away, Alisa wrote: "Easter is a reminder of all that I hope for myself. That someday I will be healed and someday I will be whole. Someday I won't have any metal or plastic inside of me. Someday my heart will be free of fear and my mind free of anxieties."
That Hope teaches us that the resurrection will include an opportunity to be with our family members
This gives us incentive to build strong family relationships now and to fulfill our family responsibilities here on earth. It helps us live together in love in this life in anticipation of joyful reunions and associations in the next.
Elder Holland describes heaven like this, "I don't know how to speak about heaven in the traditional, lovely, paradisiacal beauty that we speak of heaven. I wouldn't know how to speak of heaven without my wife and my children. It would not be heaven for me."
That Hope can sustain us as we bear the mortal separations involved in the death of our loved ones
My father passed away when I was three. I have two or three faint memories of him. I don't remember what his voice sounds like, I don't remember what his laugh sounds like, I don't remember what his hug felt like. But through my entire life I have been blessed with the knowledge and therefore the lively hope that I will hear his voice and his laugh again and I will hug him again. It is totally unfair that I grew up without a father and
it has brought me moments of great sorrow throughout my life. But because of the resurrection, that unfairness, that sorrow has already been cured.
This past General Conference, Todd Christofferson quoted the former Anglican Bishop of Durham, Dr. N. T. Wright, who said:
"The facts about Jesus, and especially about his resurrection from the dead, are the foundation of the assurance that the world is not random. It is not ultimately a chaos; that when we do justice in the present we are not trying to shore up a building that will ultimately collapse, or to fix a car which is actually bound for the scrap-heap. When God raised Jesus from the dead, that was the seed … of the ultimate hope."
We have been blessed with the knowledge of the gospel, especially the knowledge that Jesus lives. "He is not dead, for he is risen." The great expectation is that we live with faith and a lively hope, knowing that this earth life is not all there is.
It is my prayer that our thoughts, our actions, and our lives may reflect this wonderful gift we have been so graciously given by a loving and wise benefactor, our Heavenly Father.